Beat Selling Monster Teaches the Little Guy How to Sell Beats Online Starting Today
What's Inside the Beat Selling Monster Package?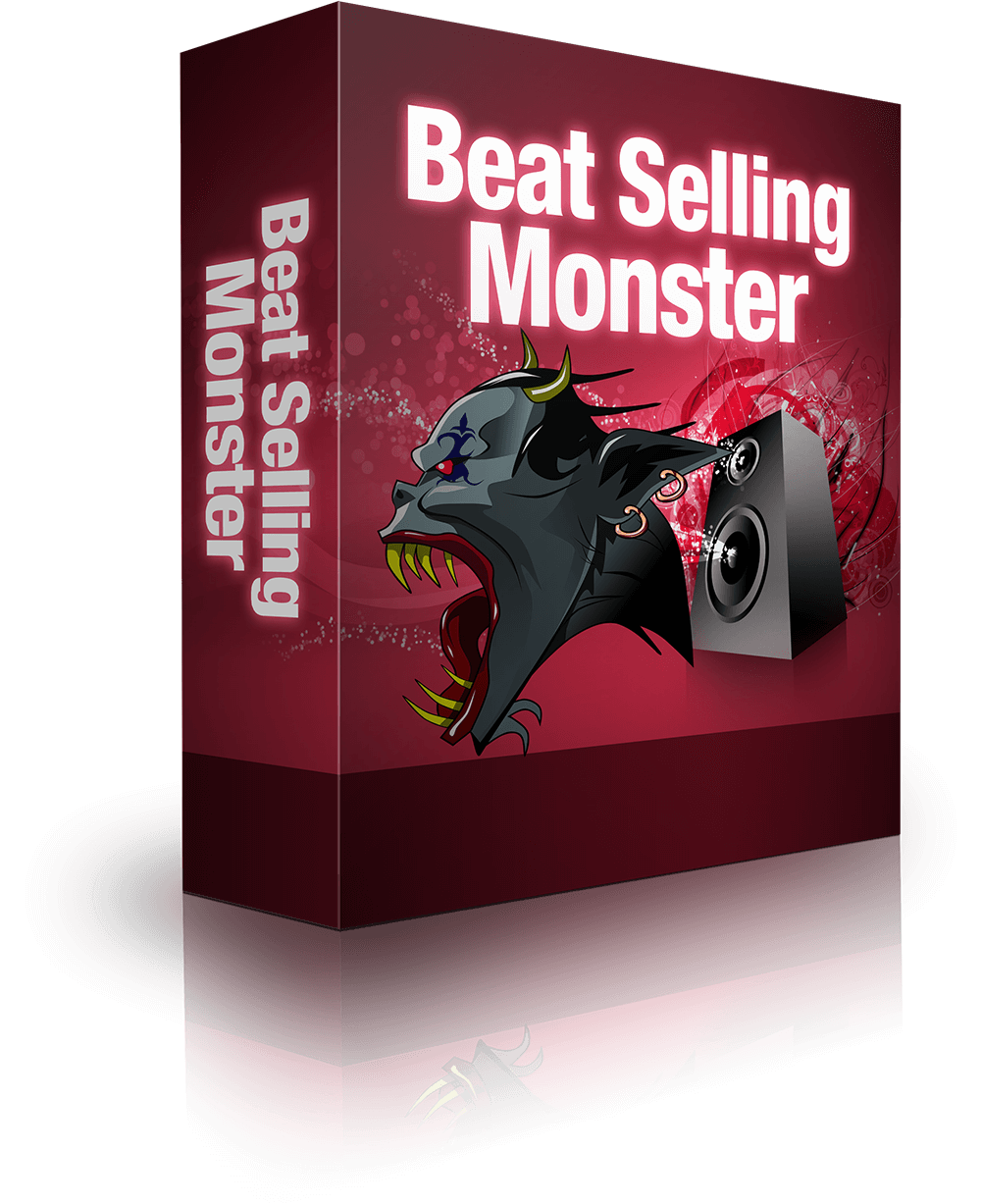 Selling your beats in today's market may seem difficult, but in reality you can achieve a high level of success selling beats online without any professional experience.
Beat Selling Monster is a course created in order to help music producers make money from several sources regardless of your experience level.
I believe if you use every tactic in this course, your chances of profit are so astronomical that you should consider it a no brainer to purchase it.
So what's inside the course?
Well there are nearly two hours worth of video content, it would be difficult to explain it all within this short sales video. But we'll give you a quick run down!
Here's a $500 Sale we Made Using Tactics in Beat Selling Monster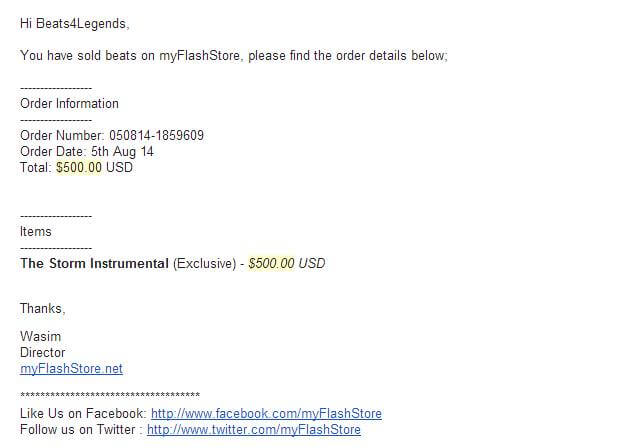 The first subject covered is Facebook, the most trafficked website on the planet second only to Google.
Facebook has come out with several new algorithms and advertising mediums. It's important to know what works and what doesn't. Sometimes paying for Facebook clicks, even from Facebook's ad center, can result in a waste of time and money.
The clicks from Facebook ads come from bots a lot of the time, and don't actually provide results.
Not to mention if you don't know what kinds of posts to write, your business will not see any profits over time from Facebook. We discuss several tactics which work now for bringing income and success.
By the Way, Check Out What People Are Saying on Facebook Before this Even Launches!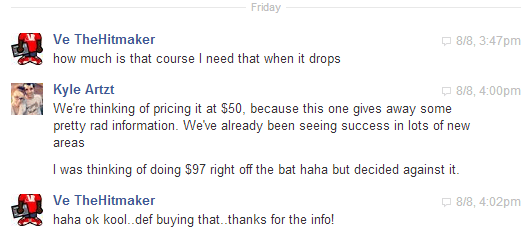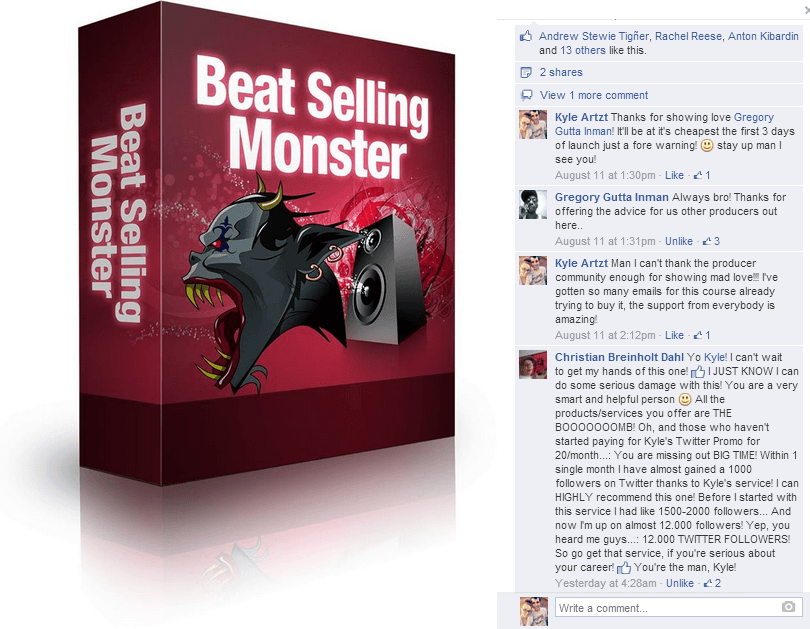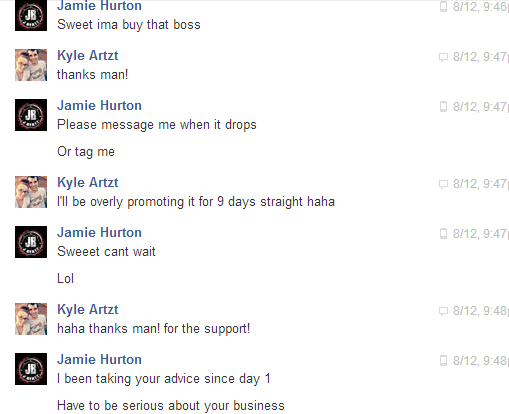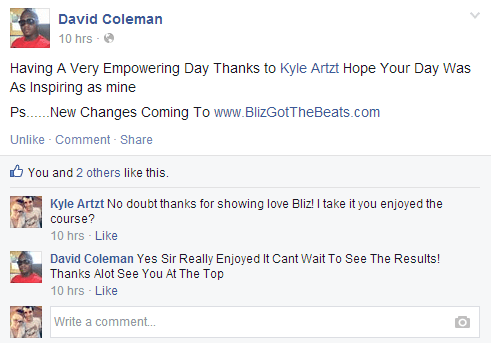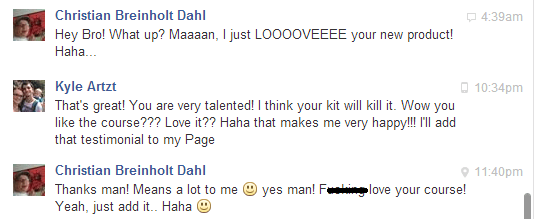 Twitter is the next module.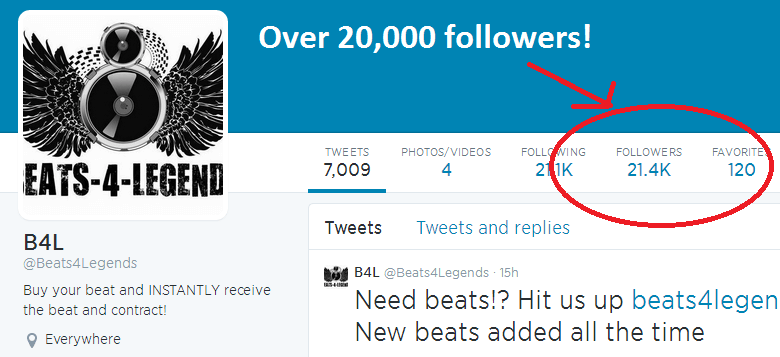 Learn how we took a brand new Twitter account and within just four or five days had multiple leads for high end sales, one of which we sent an invoice for $550 down on a $1100 sale.
And we did it all from a smart phone.
This smart tactic can multiply your Twitter success overnight.
By utilizing my smart phone and a DEAD simple tactic for growing my business, I took a BRAND NEW Twitter account and landed a $550 down payment on a $1,100 web design sale! This same tactic works great to sell beats!
I did this utilizing the simple smart phone tactic shown here, and I didn't need an army of accounts either… Just one for my business!
Discover How I Took a Brand New Twitter Account and Landed a $550 Down Payment on a $1,100 Sale Using a Brand New Account!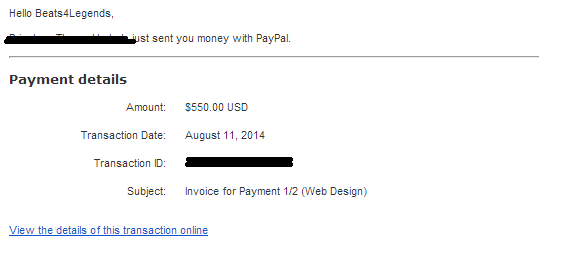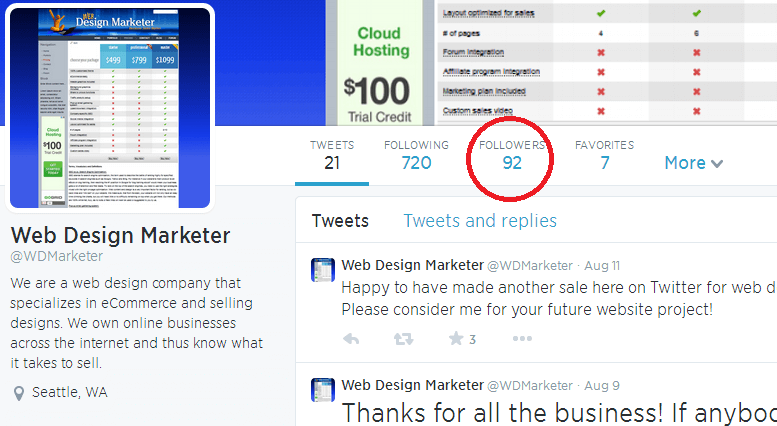 The next module is YouTube.
The quickest, easiest ways to gain a YouTube following is explained in this module. As simple as that, and yet a full 13 minutes of video for these tactics alone!
Have you been utilizing Soundcloud to it's fullest potential? The answer is, probably not. Discover how to utilize this trusted website to get huge amounts of fans and beat buyers to follow you so you can sell beats online.
Nothing needed except a computer, though there are also ways to automate the process of promotion even further, which we discuss as well. But Soundcloud is one beat selling machine you don't want to miss out on.
Reverb Nation is the next module's focus.
It's a website which most producers don't think of using. Don't miss out on this special review about success on Reverb Nation!
Next is surely to get you excited.
The Soundclick module.

Look How We Easily Got a Client's Brand New Soundclick Account Generating Revenue and Plays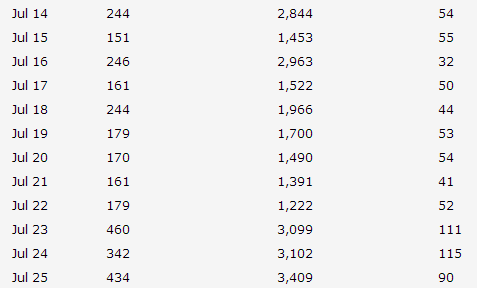 We release information on a way to rank for pennies a day that can increase you in the charts (if you do 1 minute of work daily). This along with other tactics which work in today's Soundclick environment.
We release information on one specific way to rank that costs pennies per day, and we took a brand new Soundclick account to get the plays mentioned above. Don't miss out on this fantastic opportunity for marketing yourself on Soundclick and selling beats online.
After that, is the CPC module.
Have you ever considered cost per click marketing, but don't know how to get good results? Let me show you how to set up a campaign that wins for very low cost.
Not to mention I'm giving up my #1 cost per click secret, my best weapon for CPC in today's marketplace.
The next module is about outsourcing.
I explain how I outsource thousands of dollars worth of services every month and pay just a few bucks every time.
Imaigine having everything you could possibly desire at your fingertips and budget is not an issue, including graphics, promotion, bots and more. Outsourcing is the art of hiring from other countries for a near 100% success rate. Seriously, it's feels like cheating. The quality is so high if done right that it makes you rethink spending big!
After that comes blog marketing.
Blog Posts Done the Right Way Attract Attention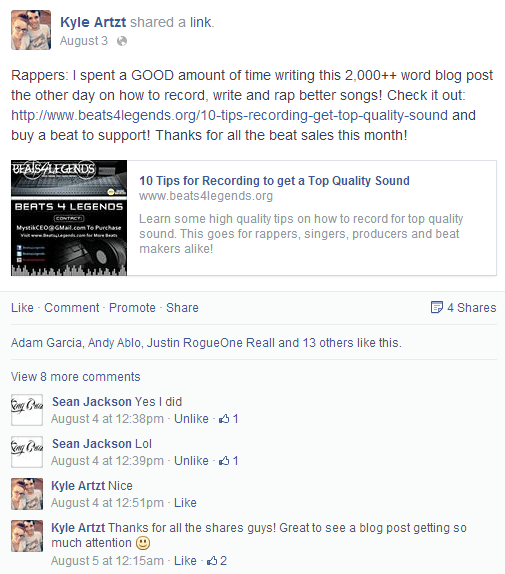 There is a right way and a wrong way to blog, and only ONE way to make blogging work for your beat selling business. Don't miss out on these timeless blogging strategies that we use to personally rake in thousands per month.
And as if that wasn't enough, then comes another module.
Email marketing.

We discuss how to utilize email marketing to your fullest potential. This module is straight to the point, explaining how dead simple email marketing can be and how you can sell beats easier than ever before.
As you can see, this course is clearly a winner! Don't hesitate, scroll down this page right now and fill out the order form to pay and retrieve your copy of Beat Selling Monster, while the price lasts!
Discover how to expand your sales in the final module.
Who's lying and who's telling the truth when it comes to how they're making money from the internet with their music? The truth might surprise you. The ability to create income is based on your ability to constantly expand your sales.
If you're not expanding and making progress every single year then you're not going to see the success you want from your career. Don't get stuck hitting a ceiling, learn these timeless methods I use every day in my business to create additional income for myself at ease by adding onto my own business.
Kyle!


Just got through with your beat monster course, watched it all in one sitting! Definitely have to watch em all again to get some of those amazing gems and secret techniques in your videos that makes me feel i got the competitive edge over other producers. It really motivated me to get out there and make some money doing something I'm actually passionate about and not being another "spoke in the wheel". Thanks again for taking the time out your life to share your knowledge, you'll be hearing from me again!"

-Andrew Mausisa, satisfied client
Free Super Bonus #1
Considered to be our Best eBook on How to Sell Beats, this Incredible Course is Included for Free During Launch!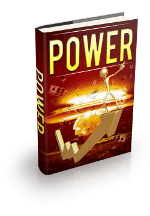 $25 Value, Yours Free!
To make the deal even sweeter and to encourage the highest level of education for your hard earned cash, we're going to throw in Power, one of our most popular, powerful and highly reputable eBooks ever released.
Discover how to run your business like the pros, making the best possible decisions to get you from point A to point B to point C. Learning to create power for yourself and your business is a science. I've created a custom blueprint for creating power unlike any other, and you need to read this eBook to find out what it is.
This eBook alone is worth the full payment towards Beat Selling Monster all by itself and you're getting it for free within the cost, as long as this course is still launched.
Free Super Bonus #2
"DIY PR: For the Unsigned Hip Hop Artist"
A Full Starters Guide to Getting PR As an Artist
Including a PR List With Contact Information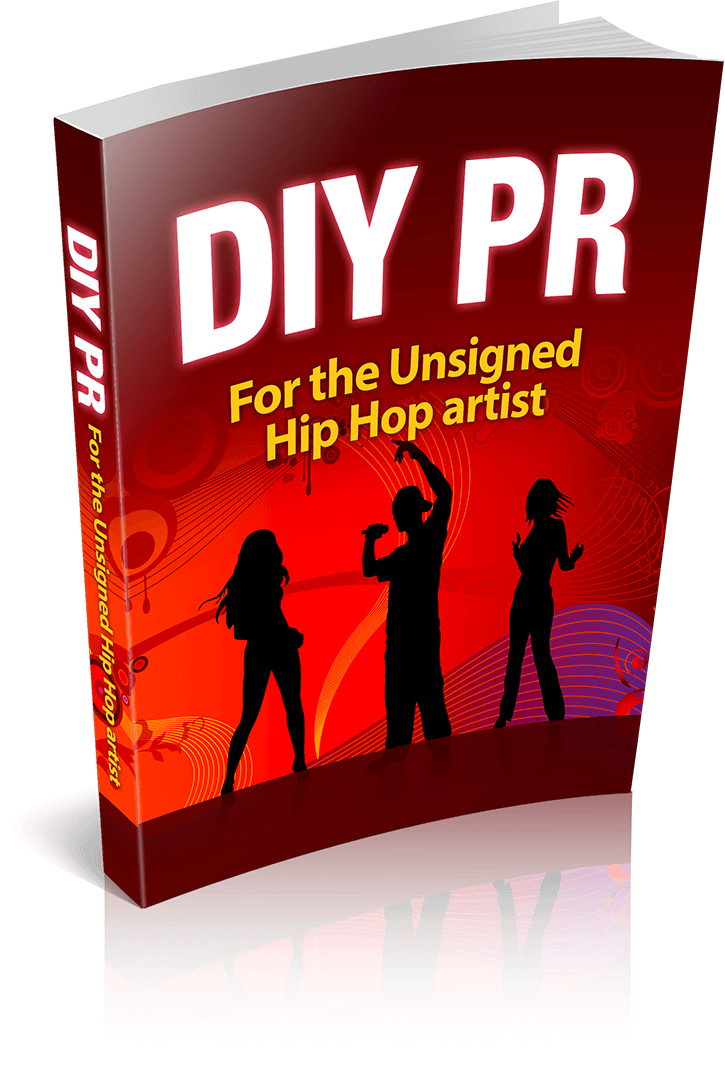 $15 Value, Yours Free!
Have you ever wondered how the pros do PR advertising? How do you even know which press release contacts are going to care about helping an independent artist?
This is why as a special bonus we've added "DIY PR: For the Unsigned Hip Hop Artist", which is a short eBook containing a full list of contacts in the PR world which have been known to help independent artists specifically.
This powerful eBook will help you in your resolve to make more money from your music by promoting yourself in the right ways.
This Course is a LIMITED TIME OFFER!
Beat Selling Monster
Limited Edition Video Course
Buy This Video Course & Discover How to Sell Beats Online Today to Become a Music Producer!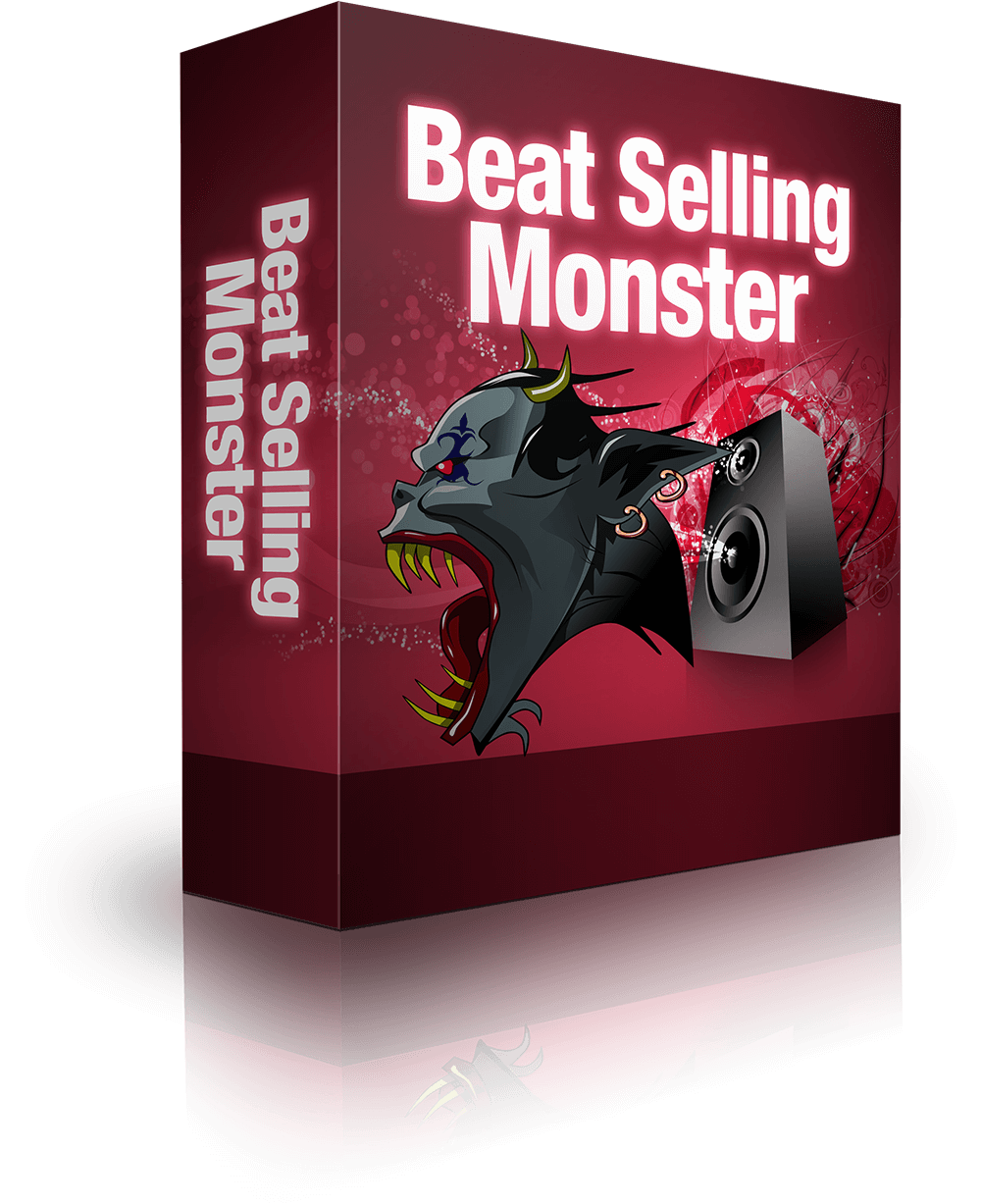 Current Price:
$149.00
$129.00
$59.00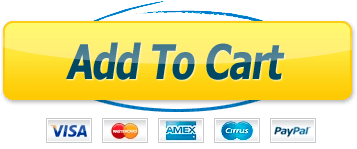 We're Taking this Off the Market
As Soon as Launch is Over…
P.S. The bonuses alone are worth the cost of this video course. Don't wait until it's too late to snag a copy! Sell beats online starting TODAY!