"Stop Hoping and Praying to Sell Beats Online & Take Off, Become a Powerful Master Faster than Ever!"
Learn How to Sell Beats Now
Nothing Means More than Gaining Power when Selling Beats
As an internet marketer I've been in business for the past four years. It's been a tough journey full of ups and downs, ins and outs, and it hasn't always been easy to sell beats online and earn serious income from home… Now I enjoy the benefits of a full-time business online, but… One thing above all that has helped my business continue to survive and thrive is the ability I have to generate and create power and, more specifically, figure out how to sell beats and make money online.
If you are not generating and creating power for yourself then you are not building onto your business and selling beats more. Period. The fact is that you need to be able to actually expand your power and make yourself more powerful. It took me over three years to come up with the ideas inside this eBook, "Power", and in so doing I have narrowed it down to just a few simple steps that you need to rinse, wash and repeat in order to create power for yourself on an unlimited scale.


If you are not Witnessing Your Business Grow in terms of Power and Income Every Single Year then You Have Most Likely Been Focusing on the Wrong Things
I know what it's like to feel completely helpless with your business. I've been there and I've made just about as many mistakes as I have made accomplishments. For the first several years of running my business I literally didn't have a clue as to what I could possibly do to make it work. Month after month I felt as though I was wasting my time and everybody else's time around me.

Let's cut the gab and get right to the point here. What YOU need is more leads, more traffic, and more money in your pocket every month. You NEED this course, so let me just tell you what's inside, in case you have any doubts at all.

Here's a few good reasons why you need to pick up "Power" before it's gone and it's too late. Let's start looking at what's inside:

Developing the 3 Forms of Power!
A.) RESOURCE
Resource refers to anything physical that you have which enables you to promote your business immediately. Resources include money, mailing lists, social media followings, tools, programs and more. If you want to sell beats online faster with even less work, then resources can help you do that (especially tools). Building your resources up doesn't have to be hard with the right strategies and smart thinking. Don't be discouraged, by the time you're down reading "Power" you should realize you already have more resources than you need!
B.) NETWORK
The second form of power is network. This form of power is all about learning how to get other powerful people to do whatever you want! How can you get big time players in your market to abide by your rules and do whatever you want them to do? This is how to leverage network to your advantage and gain power immediately. The thing is, this works perfectly for selling beats online because you already have leverage whether you know it or not!
C.) KNOWLEDGE
Have you ever heard "Knowledge is power"? This is absolutely true! Knowledge is the final form of power and it can be considered to be the most valuable. Having all the resources in the world (such as $1,000,000 to spend on your business) won't do you HALF as good when you sell beats if you don't have the right knowledge. You could easily spend all of your resources and be left with nothing unless your plan is built up with the right knowledge. Knowledge allows you to cut costs, increase profits and more! Everything you need to "know" is right here in this eBook.
Using the 3 Forms of Power, I was Able to Generate a $5000 Launch in 9 Days with a Tiny Mailing List, Getting Major Affiliates on Board such as Blitz Beats, Twan the BeatMaker and More!
Here's a DIFFERENT JV Launch when Allen Brown, Who Helps Producers Sell Beats with His Huge Website RocBattle.com, Agreed to do Co-Design a Product and Promote it! Wouldn't you like to know How I Convinced such Big Affiliates to Help?
[PROOF VIDEO BELOW BACK WHEN OUR SITE WAS AVAILABLE]
P.S. The Beat Traffic Masters course is no longer available! A lot of our courses defining information about selling beats are only available for a limited time. But it goes to show that we launched a great course together with both of our mailing lists!
NOTHING is left out in this eBook "Power"! By the end of it you should be able to get MAJOR affiliates, draw MAJOR attention and generate MASSIVE sales!
Have you been hoping and praying every day that somebody comes around and "picks you up", but to no avail? If you have been caught wondering whether it's even possible to scale your business and earn a full time income online then this eBook "Power" can help you completely change your thought process. YOU CAN SELL BEATS. Period. And this eBook is the only one you will ever need to read (seriously).
Stop hoping, wishing and praying. That kind of positive thinking is good, sure, but if you think it's going to make success fly into your wallet using your business then you are very much mistaken. The big question you have to ask yourself is this: have you REALLY done everything in your power to generate as much income from your business as possible?

Hoping is the cousin of failure, the only way to SUCCEED is by gaining POWER… This eBook is a LIFE-CHANGER, and if you want to learn how to sell beats online (or anywhere for that matter) then you need to get started right away with this read.

"Discover how to create Leverage to FORCE other Companies into Promoting You, and How to Sell Beats in the Process!"
What if you could simply send out an individual email to ANY company owner and get them to agree to promote you right off the bat?
If you could convince just one person with a massive mailing list of 100,000+ opt-ins to promote you, can you imagine what it might do for your life?
That isn't all. Here's more of what you will learn about selling beats online inside this course:



"How you can Get $500-$3,000 sales using the Power of Value and a Sales Force that Can't be Stopped!
::TOP SECRET::"
Want to Have $8,176.11 Pouring Into
Your PayPal Account Month After Month?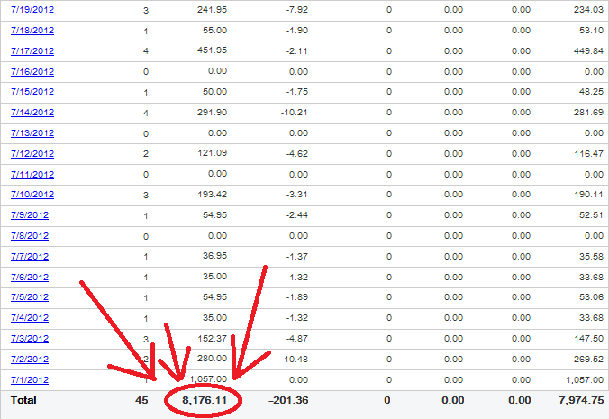 Are you under the impression that there just MUST be some sort of magic bullet traffic generation system that works for just about any business that will help you sell beats without much hassle at all, and with minimal work? Well, I hate to be the one to break it to you, but there IS such as technique.
If you actually understood how easy it was to deliver tons of high quality, targeted traffic to your website through YouTube, Twitter and Facebook, you might just throw in the towel right now because you would FEEL like you've been WASTING your time for years!
Facebook, YouTube and ESPECIALLY Twitter have become easier than ever to take over! Don't think for one second that you can't sell beats on social networks and that this kind of marketing is out of the picture, because these days its some of the easiest traffic you can possibly get. Be sure not to miss out on this amazing course, or you WILL miss out!
"We Ranked a Video #1 for a Keyword with "SEO" in the Term AFTER Penguin Google Updates!
::TOP SECRET::"
Proof that Twan the BeatMaker, a Producer who Sell Beats Daily, Promoted our Launch!
While Everybody Else was Complaining about Tweet Adder Dying Out, We Started Racking in Even MORE Twitter Followers than Ever Using Slightly Different Tactics!
[REVEALED INSIDE EBOOK: WHY TWITTER AUTOMATION STILL WORKS]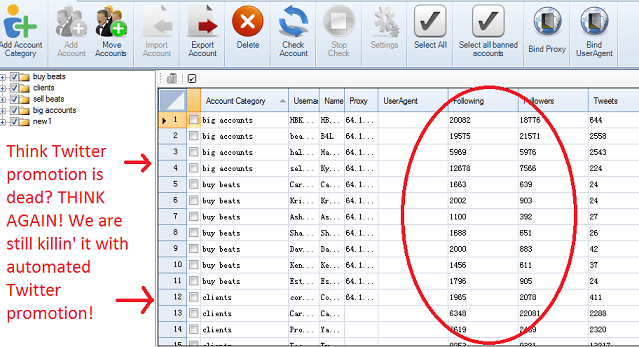 Wait, WHAT???!!?!!
For those of you who thought Twitter promotion and automation was dead, THINK AGAIN! You can still make money on Twitter in an automated fashion, just using slightly different tools and techniques. The world of Twitter promotion will never die because the website itself is so powerful.
Because once you see results like the ones we're showing you on this page, the normal "sane" marketer would KNOW to opt in immediately, without a seconds delay. Why wait when you could literally make more money than anybody you know right now, by working from home on your computer?
Top Reasons to Buy This Course Below:
1. Embark on the journey of mastering all 3 forms of power more so than you could have imagined. Learn how to sell beats online by gaining a massive network, get the knowledge you need and grow your resources!
2. Just the Twitter information by itself is worth it's weight in gold. Twitter is one of the biggest social networks on Earth
3. Google got you down? There is a way to generate articles at 80%-90% uniqueness any time you want without paying for writers or even writing it yourself. Just click a button.
4. Gain leverage and force people to do whatever you want for them without paying them a cent.
5. We will tell you how we managed to land large affiliate after affiliate, bringing us thousands upon thousands of dollars in profits from join ventures with people who were MORE POWERFUL than us!
6. Over 85 pages of content, this eBook is the most powerful course we've ever released since the beginning of this website. It is the essence of 3 years of beat selling knowledge built up into one powerful book.
7. Much, much more…
Power
Limited Edition eBook
Buy this eBook and achieve true Power!
Current Price:
$47.00
$25.00
If we take this off the market…
You may miss your chance
P.S. Don't cheat yourself out of buying this eBook. Seriously… It is too good for this market, and it CAN help you sell beats now.
P.P.S. Don't miss out on this opportunity, if you want to learn how to sell beats then this is your best bet.
P.P.P.S. As an artist, you CAN live off your beats but there's no way that you're going to be able to do so without arming yourself with the right information.