"How to Sell Beats Online & Earn $3,000/Mo Without a Record Label"
What if I told you that not only can you sell beats online easily but that beats sell faster than most digital products!! You can start selling beats over and over again without ever giving up exclusive rights!! You don't even need to know anybody in the industry, so before you leave this page, allow me to teach you how to sell beats….
…Let me take you by the hand and tell you the facts about how to sell beats NOW even if you're starting with $0 in your pocket and a simple beat making program like *Fruity Loops, *Reason or *Garageband…
I'll Teach You Exactly How to Build and Market a Beat-Site that Creates an Auto-Pilot Income so You Can Quit Your 9 to 5 Desk Job & Live Your Dreams!
Most producers forget that if you want to learn how to sell beats online, you need to start thinking like a business person instead of beat maker! How can you grow your company in a way that will sustain your life's goals? How can you afford that new car? Or that new MPC? How can you turn your Soundclick into a money generating machine so you can be selling beats online daily? On that note, let me ask you a Soundclick related question…
The Beat Market is Expanding Daily!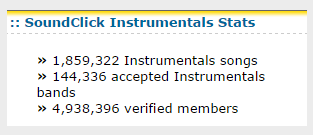 There are over 1.8 million beats competing in the Soundclick charts as of October 2nd, 2014!
*That number was 850,000 in 2007!!*
More and more producers are catching onto the fact that you can sell beats on the internet and selling beats is as easy as finding the right websites and starting your adventure!
You might be asking, "What does this guy know anyway?"
This is my new Soundclick's statistics from one of my older pages. Not to mention my beat selling site is doing great!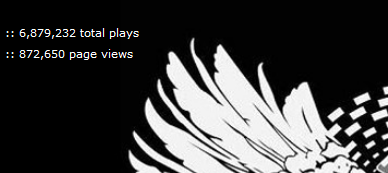 Over 5 million rappers have come to my website and many of them are customers.
I still sell beats online every day.
My Soundclick Page Still Brings In $3,000/Month by Topping the Charts!
All of the money I made in July 09 came from beat selling on Soundclick. I did not have any other form of income at this time, I made $3,000 selling beats in July!
Now it's been YEARS and I'm still making money online every single month. The difference is, while I used to make $3,000 on a good month, with high promotion costs back then rounding up to $800 every month, now I make big sales all the time, some of which are over $3,000 by themselves.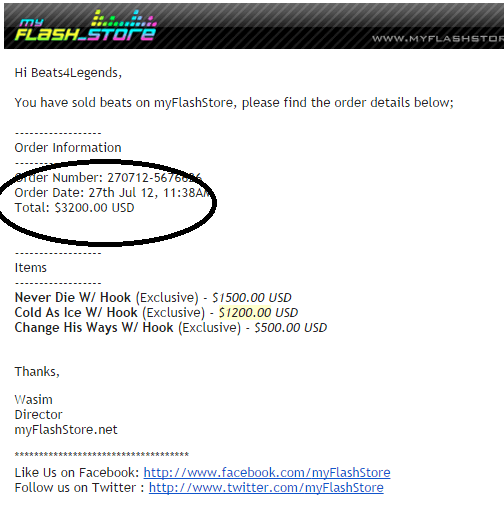 This next image is my page statistics for my real Soundclick webpage, Beats4Legends. This is a normal day for me, this is NOT, by any means, my highest traffic score.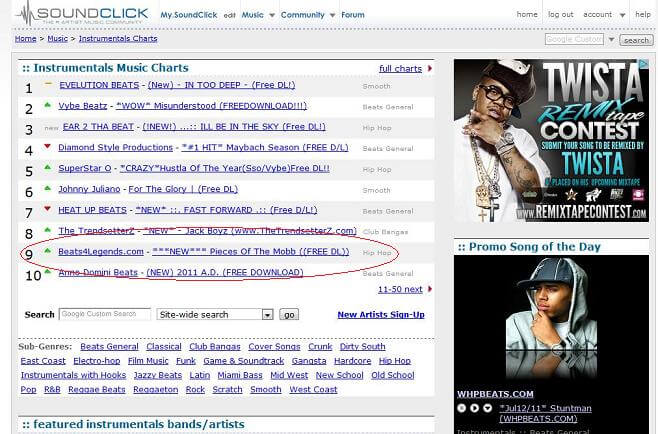 Discover How to Sell Beats Online Using Soundclick, MySpace and Various Producer Forums!
Most producers don't want you to know the secrets of Soundclick because it's been giving a select few of us an unfair advantage over our competition… We've been racking in sales without even trying while some people can't seem to figure it out!
Learn How to Sell Beats on Soundclick, MySpace and Forums
Gain Extra Income or Quit Your Day Job to Become a Music Producer
Go from 0 Experience to Expert Status by Reading the eBooks!
Read These Testimonials…
MikeCBeats Say:
"Nice ebook… best layout and content i seen thus far."
-These Results Are Not Typical, Results Will Vary-
Moscow Mark Say:
"HB explains everything very fast and simple! Gives examples of everything and really wants to help us Producers who are just starting. Read all 3 ebooks in a day, and already re making my soundclick, myspace and just my whole approach! Selling beats all over the world, making good music with dope people! Well worth the money!"
-These Results Are Not Typical, Results Will Vary-
Kid Flash Says:
"I'm doing great and that's all because of your tip! Got some placements coming in 2010 so its going real great man.."
-These Results Are Not Typical, Results Will Vary-
Shae Drake Says:
"yo HB, just copped your book, great info man,, im about to start the promo song strategy, see if it works for me, love the myspace book too, great stategies in that one too"
-These Results Are Not Typical, Results Will Vary-
Jack Richards Says:
"Thanks for the help man, your program is very good. It changed my whole perspective on internet marketing."
-These Results Are Not Typical, Results Will Vary-
Ali Boi Says:
"Your ebooks were WAY.. WAY worth it, they have helped me increase my mailing list, increase my sales, and my chart points.. I'm getting more sales, since this is my only source of income, I'm paying more bills, and am able to invest more into my music, and will DEFINITELY grab all of your products, those ebooks are a 5/5 hands down."
-These Results Are Not Typical, Results Will Vary-
Bucks 4 Beats Says:
"Hey, thanks Halfbreed I purchased your E-Book set and have been astounded by the results! You really dropped some jewels that will benefit any producer at any level. I implemented just a few of the strategy's and saw my position on Soundclick increase overnight! Thanks Again!"
-These Results Are Not Typical, Results Will Vary-
The list goes on, and on, and on, and on….
This was Hard Work!
-Professional editing done by Alla Reese

-All the facts are researched, tested and proven
-All the major secrets are revealed

-Amazingly high customer satisfaction rate
-INSTANT DELIVERY
***Bonus Gift!***
Well Known Mind Tricks
The Producer's Cheat Sheet
With Your Purchase You'll Receive a Secret Document that Reveals Nearly-
Subliminal Mind Tricks that You Can Use on Rappers to Make Your Beats Sell!
Make These eBooks Yours Today!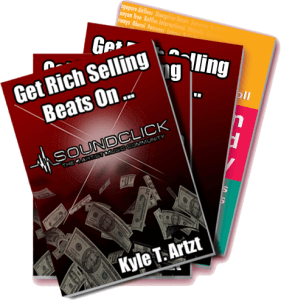 Discover how to use forum marketing to actually bring long-term results for your beats business
Utilize social networks to earn a killing and start growing your numbers and lists
Soundclick is covered from head to toe, exposing all the things a Soundclick noobie needs to know
5 eBooks total, professionally edited high quality & includes "Mind Tricks" bonus eBook
Known as the best beginners eBooks on the market for discovering how to sell beats on the internet
Limited time offer, instant delivery
Purchase All 3 eBooks at Once for $14.95!

Buy now before we take this thing off the market forever!

P.S. You're about to make the best investment you've made in your production career by purchasing these eBooks, buy now before our prices jump!
P.P.S. Success stories are emerging every day, don't wait any longer!
P.P.P.S. Selling beats online is easy! There has never been a better time than now to sell your beats on Soundclick and MySpace.
Note from the Author:
I was just like you at one point in my life. Struggling endlessly trying to sell rap beats on the internet and literally having no results. I've spent countless dollars on useless courses and material that didn't work for me at all. The problem seems to be that the small number of producers who actually make money selling beats simply don't want to share the information. I wrote these eBooks in order to break the standard, and as a producer who still pays rent from beat sales, I can assure you that the tactics in these eBooks work NOW, in 2010. The best beat selling tips have never been so easily available.
Selling beats should be an easy task for any producer. Honestly, if you beat makers out there are trying to sell your beats and you're not seeing any success from it at all, I have to tell you… There are literally hundreds of producers online who are cashing in on this musical gold mine as we speak! To sell beats online is as simple as understanding the market and jumping in! I hope this page will help you in your efforts to sell rap beats.
Thanks,
Kyle