::Viral Google Domination 2.0::
Rank on Google, Suck in Traffic, Rake in Income Even After Google's Dreaded Algorithm Updates!!
Everything about Ranking on Google has Changed in the Past Couple Years, Google's New Algorithms Wiped Out Almost ALL Search Engine Optimization Techniques, so I got KICKED OUT of the charts… But Later, Reclaimed Them With THESE Strategies!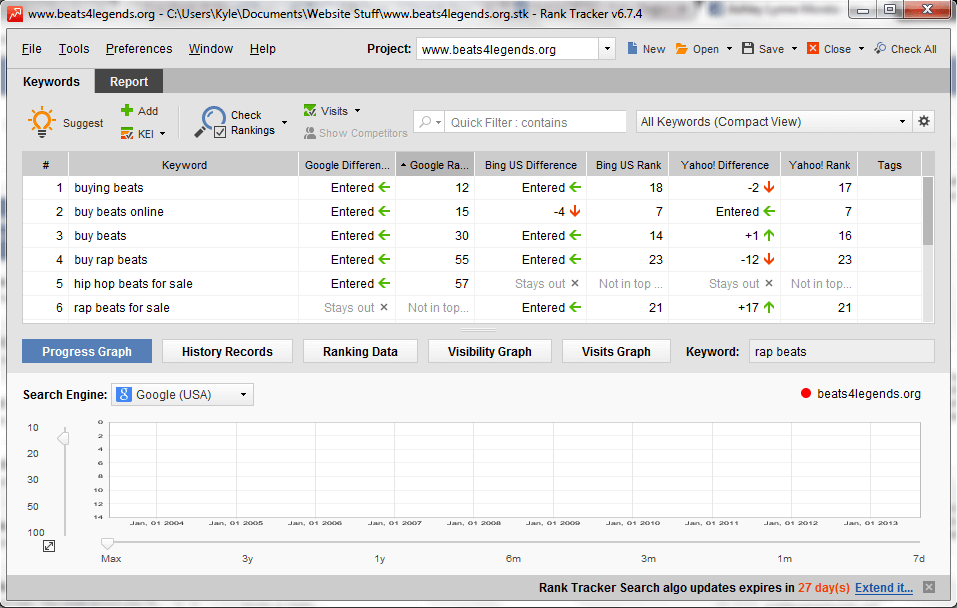 Here are My Rankings After Just Days!! Yes, Just 1 Day Later After the First Picture!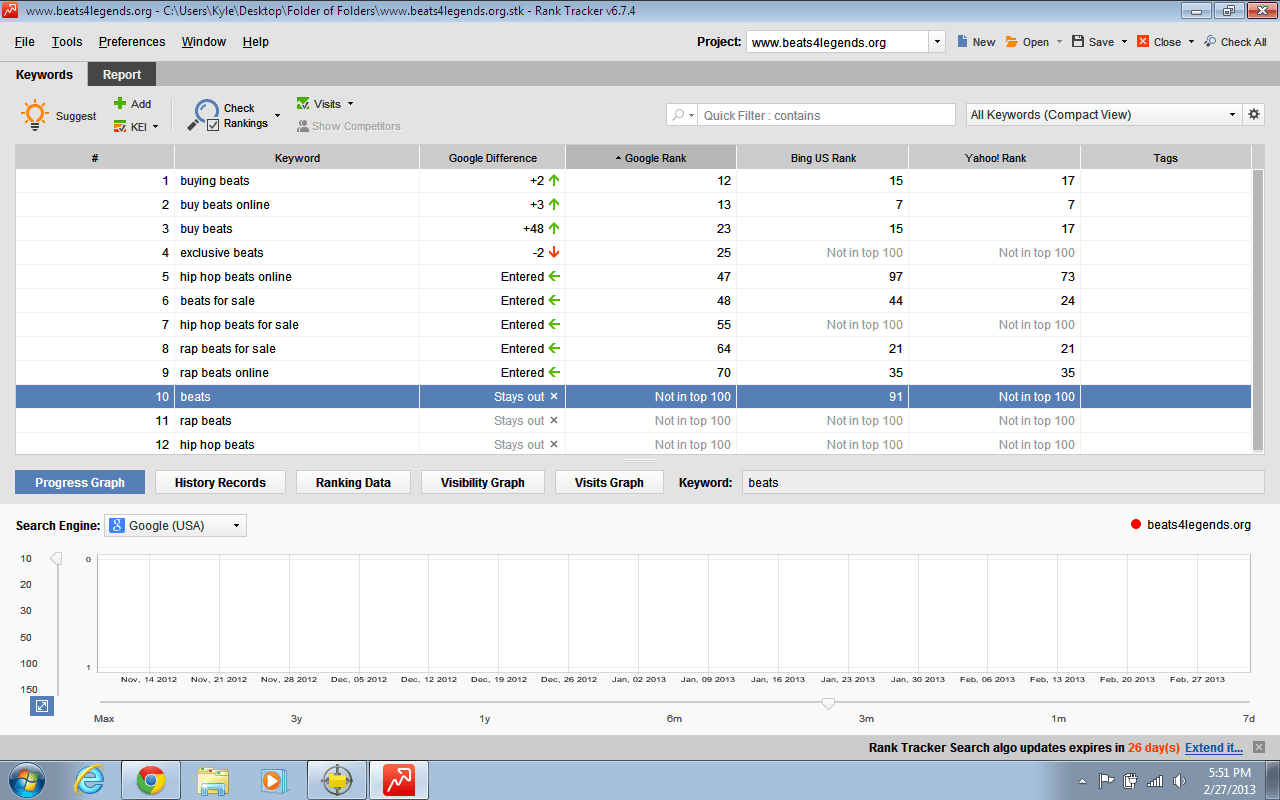 The rankings are climbing daily, easily! Not just in Google but in Yahoo & Bing!!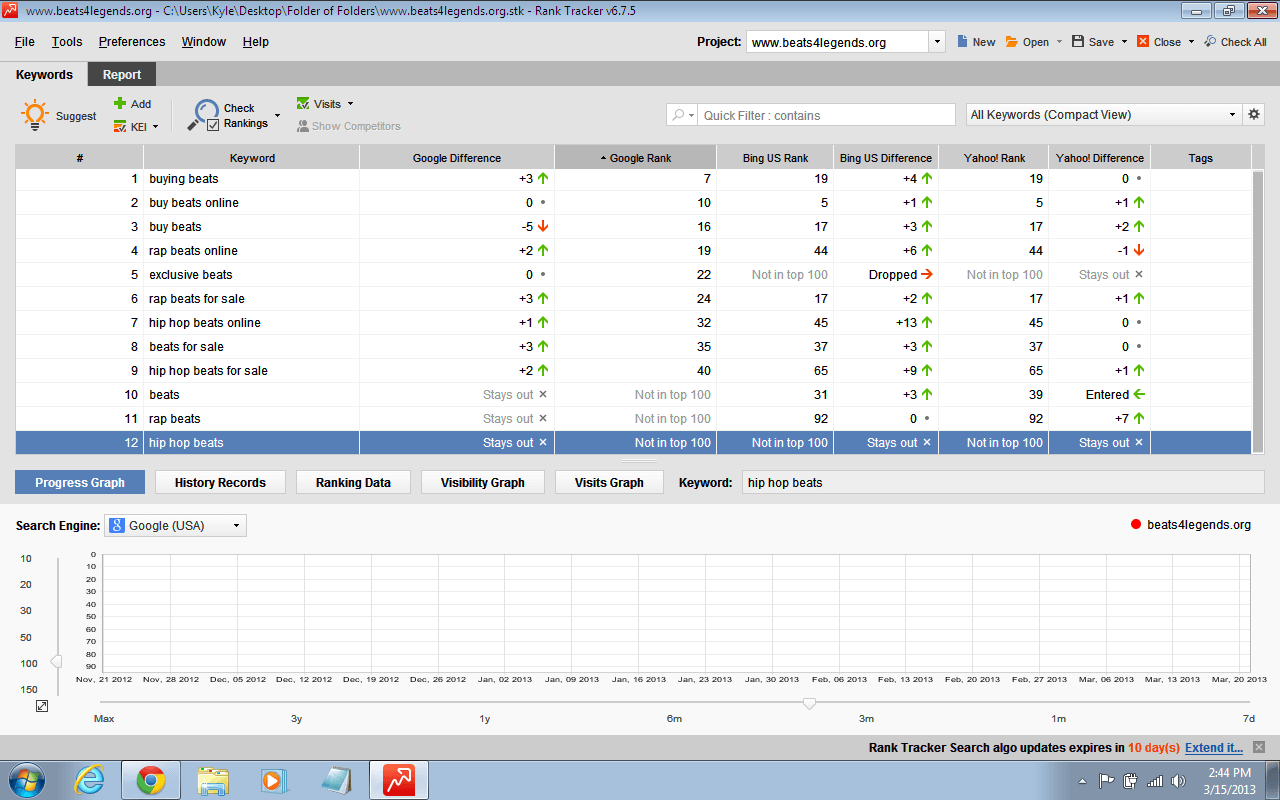 Now My Site is Back in the Top 10 for Lots of Keywords, and More Not Listed!!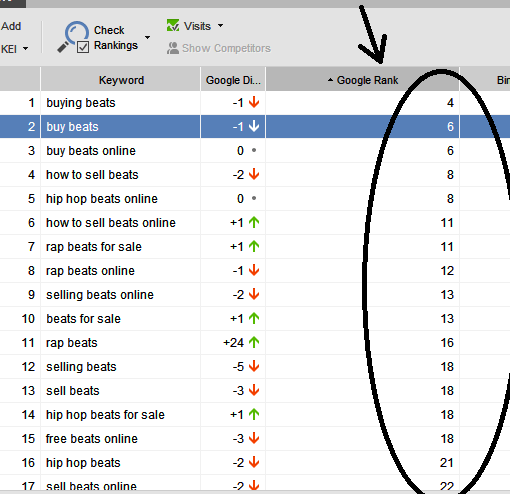 This Picture Shows us "NOT IN TOP 100" for a main keyword, and after only a few short weeks we FLEW UP, jolting our rankings!

::SALES PAGE FOR VGD 1.0, ALSO INCLUDED::
"Take Your Rankings Back, FINALLY a Google Course that Will Help you Get Rankings After the Penguin/Panda!"
I was hit by the Panda, and I FINALLY figured it out
It's been a long time coming for me and my businesses with Google marketing. I can't believe how much time, energy and money I have spent engaging in Google to better rank my websites for organic searches. For the past 3 years of my business's life, I was building my mailing list at a very fast rate with chart topping Google rankings… Then something happened.

Even though I was sure I had always been doing nothing but white-hat Google friendly back linking, for some reason my site FELL OFF the charts completely due to the back links I was sending to it after the Penguin & Panda updates! If you haven't heard of these, it's basically when Google completely changed their algorithms throughout the year of 2012, and ended up wiping a lot of businesses off the map.


Though I fell out of the top 100 for all my keywords, my CLIENT'S positions were unmoved, and they did not fall out of the charts at all! This was because the backlinks I had sent in the past weren't the problem, the issue lied in the NEW back links I was sending, as Google no longer permits the back linking I was doing.

So what did I do? Well, honestly I had nothing to lose… I was at a point where I could either come back from the bottom of the charts and recover my rankings that had stayed persistent for 3 years straight before these updates, or I could wallow into the darkness and accept my fate.

So I started testing.


I sent every type of back link I could think of to my many different sites, so I could make as much progress and understand as much as I possibly could with Google's new algorithm changes. What happened was amazing.

My rankings started coming back! In full force! Not only that, but the progress was so rapid, I knew then and there that my rankings could recover, and all I had to do was use a different kind of back linking.

It Took Months, but I Had Cracked the New Google Algorithm Down to a "T"!
I can't tell you how many courses, ebooks, videos, blog posts and forums I had read by the end of my research… But luckily enough for me, I found ALL The reasons why sites are falling off due to the Panda & Penguin update, and the truth is that it's a lot easier to game the algorithm then you might believe.

But Not Only Did I Decide to Share this Information with You, I Also Decided to Give You the Best 2013 SEO Strategy There Is!

Most people go after the largest, most competitive keywords. In 2013, using the back linking and content strategies explained within the course on this page, you can pretty much guarantee yourself that you will be able to take even those huge keywords… But is that really the best way to do it?
My personal idea is that it's a pretty bad idea to go after the same keywords EVERYBODY is going after… Because no matter how good you are at SEO and ranking websites, the fact is that you will not be doing yourself a very big favor to try to take over just one little keyword, no matter how many searches it gets.
Don't waste your time, energy and resources into ranking your website for some nearly impossible-to-rank keyword, because quite honestly it's not the best use of your time… At all. Instead, why not find an algorithm to actually find smaller keywords (LSI and long tail keywords), and take them over one at a time with specific pages made for each keyword?

It's a pretty bad idea to do anything less than that. You don't want to be held back by just a few simple keywords, because though it may sound strange and you may not believe it, in my experience a keyword that gets 10,000 searches per month generates roughly double the amount of traffic a keyword that gets 1,000 searches a month gets. Trust me I w as #1 in tons of keywords for over 3 years before these updates.


"Here's Some Free Videos on Keyword Research for this Technique, Just a TASTE of the Power of this Course!!"
Video #1:

Video #2:

Google has been, and always will be, the biggest website in the world for any business to start sucking traffic and money out of starting right now.
The Penguin & Panda update are all about different types of back links, and a good link profile. The process is as simple as can be, and now is the time to act!

While most people are sitting around, scared to do back linking to their website in order to bring their site up on Google's charts, I was testing for months and months. Finally, my major break through has come, and indeed it is possible to back link to your website in a way that will RECOVER your old rankings and help you achieve even more powerful new rankings!



"But Google Isn't All That's Covered, There are Ways to Combine these Techniques with your YOUTUBE Account to Bring TONS of High Quality Leads to your Site, and Earn Up to $20+ per CLICK on Adsense!!!
::TOP SECRET::"
Want to Have $8,176.11 Pouring Into
Your PayPal Account Month After Month?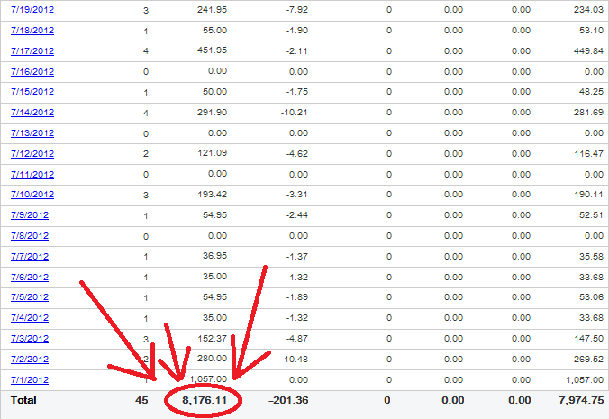 I don't intend to show myself off or be cocky in any way when I show you my personal income on a monthly basis, but I have released this PayPal record above from inside my PayPal account specifically so you can see that it is indeed possible to make the kind of money that you can call 6-digits from the internet.
My #1 goal in life right now is to provide as much top quality information as I possibly can, and make it possible for YOU to make more money from the internet, to get to where I am and above. I also understand that some of the people reading this make a lot more money than me, and I am still expanding!
In fact, in 2012, my tax return showed that I actually DOUBLED my income since 2011! I was happy to see that, and if I can keep that up on a yearly basis then I will be at a quarter million per year in just 12-24 months! Pretty crazy… So I want to share what I'm doing, and give as much information as I can give.

"VGD 1.0 Had Info About a Link-Getting App, but That Info is Actually Obsolete!"
I released links to resources such as Inbound Now in the last launch, but that site is full of glitches and won't allow you to use the apps without linking back to their site on all your pages, which will KILL your Google rankings, not to mention make you lose massive amounts of traffic to their website.
So instead of doing that, I've come up with MUCH BETTER ways for you to grab tons of back links to your site, without effort and much easier than before. Don't waste your time doing the wrong thing when the right way to market is right in front of your eyes.

SEO programs are mentioned in the 1.0 version of this course, and these programs can WORK if you use them the right way! But they are FAR more likely to hurt your rankings then help because of the way Google has changed it's algorithms.
Google doesn't want you to do this kind of SEO! Period. They don't want you using programs!
What I did is 100% WITHOUT programs, using natural linking that Google LOVES, but in conjunction with several different types of promotion that came together to make this happen.
So this course describes how I came back up in the search engines, soaking in TONS of clicks to my website, and all because I was using a bunch of techniques rolled into one, I flew from "out of top 100" to the top 10 for many keywords and top 20 for many more, all in just 30 days… And YOU can too!
"I bet You're Asking Yourself How On EARTH We Can Give Away SO MANY Amazing, High Quality, Content-Full Videos on the Sales Page?"
Well, We Can Because the Course Contains WAY MORE Than Just This!!!
There is absolutely NO LIMIT to this, and you can make as much money and drive as much traffic as you want to. The one thing you should be aware of is if you use the tactics outlined in this course, not only will you bring more traffic to your site on a daily basis, but if you do it right you might want to be careful… Because once you turn this traffic source ON, you can't turn it OFF!!!
"The Penguin & Panda Update on Google Had us On Our Backs for a While, but our Links Were Still Good Because our Clients Still Ranked!!!"
Sure, we got hit by the Panda and Penguin update, but I'm happy to say that we FINALLY cracked the new algorithm using reverse engineering and testing, and trust me when I say it's really not that much harder or that much different than any other Google update in the past.
The only reason this particular update caught us off guard was because, truthfully, I have never been alive to see such a dramatic change in the search engine's algorithm since the very beginning of my time marketing online.
Don't lose out on this course, as you know it will only be around for a little bit, and it's absolutely worth every penny of your time and energy.
"Top Information on How to get $20+ PER CLICK from Adsense Earnings!!!"
A big part of this course is actually the combination of Adsense, YouTube, Google and Twitter for a perfect 4-way traffic circle that will drive massive monies into your pocket. We go over tons of different resources for clicks on Adwords that get $40+ per CLICK, so if you have Adsense on your site, not only will you be balling out off of the FREE CLICKS coming to your site, but you will also make good money from the clicks on your Adsense ads.
When it comes to Google and all other forms of traffic, it's about working smarter, not harder. With Adsense earnings so incredibly high, you won't have to do much more than just rank articles on Google to get thousands of dollars per month. For instance if you had gotten just 100 clicks on Adsense, you'd have made over $2,000 just from your Adsense earnings from those tiny amounts of clicks. Crazy.
"I Give Away my EXACT Back Linking Strategy that WORKS in 2013 Post-Penguin/Panda Updates!"
Don't just THINK you're going to rank, KNOW you're going to rank by doing the most important thing you can possibly do post Penguin & Panda update: Drive the RIGHT back links to your website, submitting the articles/links in the RIGHT ways so that you don't waste your time and energy doing something that simply won't work.
You need the right link diversity, and DEFINITELY the right keyword diversity as well. Don't forget that these are the MOST IMPORTANT things you can possibly do for the new updates, and you won't rank without this.
"How to Use Twitter to Drive Massive Traffic & Easy Back links to Your Page Easily, While Spreading the Viral Flow!"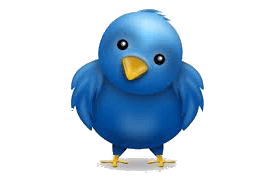 Twitter back links and using Twitter to drive traffic to your site is one great way to drive way more traffic, back links and overall sales to your website very easily. Never under estimate the power of natural back links and traffic building, especially when you're talking about using Adsense with $20+ paid per click through Adsense.

"Article Writing is a Big Part of Google Marketing, it Still Works, but You Should WRITE ARTICLES WITHOUT Using Your HANDS!"

What? Sorry if that seems like a trick of some kind, it's really not. In this course I reveal how I write articles EVERY SINGLE DAY without the use of my hands. I find that taking my hands out of the picture allows me to write articles much faster, and with higher efficiency as well as relevancy to the articles.

So inside this course I actually reveal how to write articles FASTER than ever before by using these simple tactics! Don't forget that there's NO REASON you should be using your HANDS to write articles, because not only will it hurt your wrists, but in the long run it's going to actually hurt your business too because your hands have trouble keeping up with your thoughts!


"Video Marketing Secrets for Ranking on Google that the "Guru's" Don't Want You to Know About!"

I don't know if you realize this or not, but the reality is that video marketing is the most powerful form of internet marketing to date. It is estimated that by 2015, Google will not show any websites in the top 10 that don't have a video in it. Why? Because pages with videos have higher retention spans, more sales easier, and more time spent on the site.

These are all factors Google loves, and for that reason videos have some SERIOUSLY crazy secrets behind them! There are ways to use video marketing in conjunction with the techniques laid out here in this course that will change the way you do business forever.

So let me reveal to you a better way, inside this course… So let's recap.

Top Reasons to Buy This Course Below:

1. Discover how to change your content so that you are sure to rank easier in the search engines, and actually use content marketing to drive millions of visitors to your site.

2. Learn the secrets to making unlimited monies from Adsense, getting click through rates as high as 5% EASILY without even trying, and while racking in $20 PER CLICK…

3. Discover how you can use VIRAL BACK LINKS to drive tons of real, targeted visitors to your website very easily, and force them into BACK LINKING to your site!

4. The EXACT link-building tactics that I have recently found to be the ONLY type of back linking that actually helps your site move up in the search engines after Penguin and Panda update.

5. Automate the entire process of SEO, and make it possible to VIRALLY spin out of control with more traffic, back links and higher rankings than you've ever seen before.

6. Discover secret tactics to driving massive traffic daily to YouTube, Twitter and other websites, as well as WRITE ARTICLES for Google ranking without the use of your keyboard and without even using your hands

7. Secrets to video marketing that will bring up your rankings easily on Google

8. Much, much more…

Viral Google Domination




Limited Edition eCourse

Buy this Course & Dominate Google, Penguin and Panda!

Current Price:

$127.95
$77.00
$39.95

IF THIS COURSE IS SELLING TOO MUCH, I WILL DOUBLE THE PRICE. VGD1.0 WAS WEAK. THIS VERSION, 2.0, IS CRAZY STRONG. It. Cannot. Get. Out. So get IN while you can!




P.S. Don't cheat yourself out of buying this eCourse. Seriously… It is too good for this market.

IMPORTANT NOTICE:


If this product launch does better than I am comfortable with, meaning if we make TOO MANY SALES at the launch price, then I swear I will raise the price to $77. This course is TOO EASY for just any fool to do it. So if you want a good price on this course, you may have to get it RIGHT AWAY, because we may be changing the price DAY 1. That's how powerful this is. We need to keep sales counts DOWN to a certain minimum I'm comfortable with, or any idiot will rank on Google.

P.P.S. If ranking on Google in 2013 is part of your game plan, then do yourself a favor and BUY THIS COURSE before it's too late!

P.P.P.S. If LIVING off of your music and your passion is something that you look forward to doing, then I would not miss out on this course by any means!!