Let us Change the Way You Sell Beats Online by Providing You with a Top Notch Full-Out Game Plan
The honest to God truth is that selling beats is one of the easiest things I've ever found out how to do, and if you want to sell beats online I can help you do that. When I first started, I began by creating a free Soundclick account, and by the end of my first month I had already made over $100 selling beats. This was with no experience, very poor quality instrumentals, and basically no understanding of marketing.
Yet somehow, I was able to sell beats very fast and make tons of money from the very start, though it did take me several years to figure out how to jump start my career and turn into a true full time income. It wouldn't be until 2009, when I started my first official business titled Beats4Legends, a business that still stands and earns me money every single day.
Yes, you heard that right, unlike many of my other competitors currently on the market who are selling information, I've been selling beats online for even longer than I have actually been selling information products. I was one of the forerunners in the sell beats market and I was able to create huge buzz and sell out thousands of units with courses and information products on this website, SellBeatsNow.com, but truly my first income was Beats4Legends and it still remains one of my strongest forms of income today.

So what does this have to do with you? The answer is: I want to help you.
If you do good then I feel like I can do better. By making it possible for more people to actually make a living online selling their rap beats, I believe that I'm actually doing a form of networking that's going to create extreme buzz for me in the future, and this is something that's I've seen to be true over and over again in my career.
Most people in the music industry have it all wrong, they are under the understanding that for some reason if we help each other out then we will create too much competition for ourselves. I have no idea why people in the music industry believe this, it has something to do with some harsh sentimentalism or perhaps a clinging to an understanding that isn't true.
By networking and helping each other out, I find that you're able to get tons and tons of promotion from sources that otherwise you would've never had. Helping other people get to the next point in their career is one of the absolute best ways to get to the next point in YOUR own career. This is because people always tend to come back and help those people hooked them up in the past.
You could help somebody get just a little bit further in the game, and because of that slight push they might meet Lil Wayne and perhaps Lil Wayne decides to use one of his beats. That person now has direct contact with Lil Wayne, and if you TRULY helped them get there, then they *owe you one*. The possibilities become even more exciting when you talk about helping HUNDREDS of producers every day. This is the premise for selling beats with joint ventures!

So Let's Get Started, Here's What's Inside this Mind Blowing Course
1.) Starting off Right
If I had known what I know now 3 years ago, I would have been in a dramatically different place today. My business doubles in total profits every year now because I am following a simple strategy, that I use daily. If you START with these same concepts, you will make it further than even I did in 3 years time! So, of course, I share every single concept and strategy for a true long-term business building plan in this course.
2.) Starting off Right pt. II
Why 2 videos? Simply to add more information. Our videos are no longer limited to 5 minutes each, so these videos are all longer than our normal products, yet we still wanted to give a second video on this concept of starting off the right way.
3.) Pricing and PayPal Tricks
Did you know that there are ways to make it possible for people to buy your exclusives at $800 for instance money in your pocket, even if they don't have the full amount of money for it? There are tricks inside PayPal and pricing that can change your game. If you want to sell more beats, this is, quite simply, the best way to do it.
4.) Remixes for Mad Money
Wow, this has to be my FAVORITE method of promotion thus far. I've never talked about this INCREDIBLE tactic before, and the fact that there is almost NO COMPETITION makes it your playing field. To be real, I have NO IDEA why I am giving away this invaluable, incredible, amazing trick in this simple course, seeing as how it's priced so low. But hey, that's my mission for 2013, MORE INFO for your buck.
5.) Article Marketing & Google
Article marketing is one of the most POWERFUL forms of link building on the internet, and it has existed since the dawn of the world wide web. The fact is you can make serious coin, but you need to understand what Google wants after it's latest Penguin & Panda updates. Spinning still works, but ONLY with the highest quality as explained in this video.
6.) Beat Selling Automation
Never waste energy trying to send off your beats one at a time! What a waste of time, and time is more than money. Embrace these powerful secrets for automation, and learn how to take your business to the next level and far beyond that.
7.) Upsells for more cash
If you're not including upsells with your beat selling website, you are LOSING MONEY. This is one of the best tactics I've ever implemented to date on any of my websites, and it's worth your time and energy. Trust me when I say, these tactics described here can truly change your life.
8.) CPC (Cost Per Click) Marketing
One form of advertising that works to help you sell beats online is CPC. Did you know that it's possible to DOMINATE on huge websites such as Facebook and YouTube? This is the only information you will ever need for CPC marketing, and it's going to be a lot to take in. This long video includes all the information you will need in order to make some serious coin on the internet, easily and without any hesitation, build yourself an empire faster than would've even been possible just 15 years ago.
YouTube, Facebook, Google, Viral marketing and Video marketing are all covered in this course.

Want Some Proof of this Course's Brilliance? Check Out This Ranking: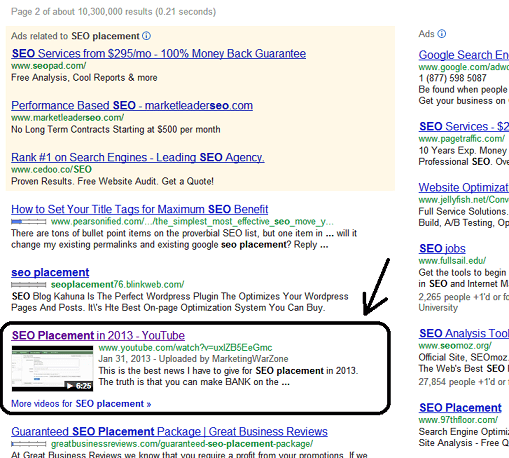 I ranked for an ultra-competitive keyword, with over 10,300,000 competing pages, on the top of the 2nd page on Google after only 3 days of back linking! This video was uploaded just 22 days ago, and I didn't start back linking until just 3 days ago, yet this morning it's already about to breach the first page.
By the way, this is for an ultra-competitive keyword in the SEO market, meaning that even the other SEO guru's are missing out on these tactics!
I checked the ranking on April 23rd, 2013, and it is #3 in Google's charts for the keyword now. Yes, front page. Imagine what that could do to help you sell beats?
Not to mention, I relate it back to a way to get TENS of THOUSANDS of views on your YouTube account very fast and easily, bringing TONS of promotion to your business! This is not "fake views" or anything stupid like that, this is just real and legitimate.

My last-released PayPal report… Can't release too many, now can I? ;)… But this will show you how much I am capable of making on a normal month.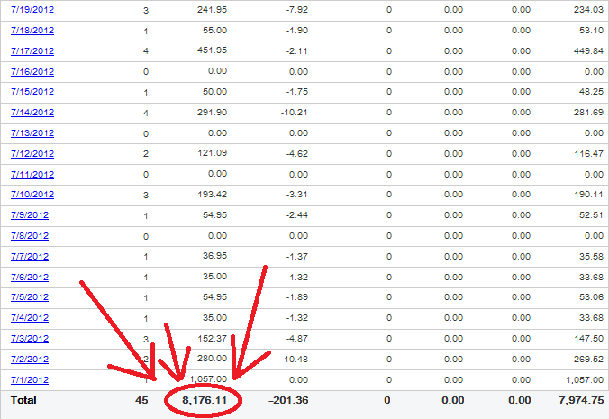 Don't miss out! Buy today!

The Game Plan
Limited Edition Course
Buy This course & Blast-Off in Beat Selling!
Current Price:
$54.95
$39.95
$24.95!!!

This Launch Price CAN'T LAST, Can it?
P.S. For this price, especially compared to our other course's and their prices, you really can't go wrong.
P.S.S. We want to HELP YOU. Let us do that by offering this awesome course for a fraction of our normal costs. If your goal is to sell beats online, this is your chance.
Click here for more products!