The Reverse Engineer
"The Greatest Crack of all Time for Soundclick & YouTube Charts!"
If you want to get your traffic up now, this is the course for you
I have been selling beats for a long time, and trust me when I say that cracking algorithms has been hands down my #1 secret to success. Back when I first started selling my beats I actually figured out a crazy method of uncovering ANY algorithm, which helped me take over Soundclick first, then Google, then Twitter, then YouTube, then Facebook, etc… Until I had more traffic sources then I knew what to do with!

The latest developments in the internet marketing arena have made making money a lot easier for me and most of the rest of the world. To tell you the truth I truly believe that the easiest way to make money starting from the bottom would be to take a system, any system, and use reverse engineering to actually figure out the exact algorithm needed for that specific charts system. This allows you to take over ANYTHING, and that is exactly the same strategic information I have included in "The Reverse Engineer".


Why waste your time trying to figure out what works when there is a way to 100% crack any algorithm from the bottom up with just a little bit of testing and a budget of pennies on the dollar?

Don't lose your mind trying to figure out what works, because we both know there is information out there that will instantly change the game for a lot of us. The Reverse Engineer is full of information that I personally think you won't find anywhere else on the internet. I've identified a simple 3-step process that allows you to crack any algorithm for any website, and it has allowed me to rack in countless dollars per month just promoting by myself.

I don't want to waste your time, I want to get right into the juicy stuff. So let's not dwell on a lot of talk, let me show you exactly why you need to pick up this course and dig into The Reverse Engineer before you miss out and it's too late.

Here's the run down on why you need this course…
The Reverse Engineering Method is Used by the Military, and It's the Most Effective Method of Completing Goals, Including Cracking Any Algorithm and Stealing Traffic from Any Website!
The truth about Soundclick? Well, the truth is once you dig into this course and find out the exact algorithm, you're probably going to feel pretty weak… The truth hurts sometimes, and if you only knew how easy it was to rank on Soundclick, you might start to see that you've been wasting your time! To get right to the bone and get your Soundclick on top, it's going to take nothing more than a little bit of motion. The algorithm itself is easy, and so I will share it with you.

This is why I not only reveal the EXACT Soundclick algorithm down to a "T", but I also give you the cunning edge information on how to crack any algorithm for any charts website. Not to mention YouTube is an absolutely forerunner in bringing traffic… In fact…


"We Started a Brand New YouTube Account on 10-11-12, & Within a Few Days We Were Getting 1,000+ Views Per Day from Within YouTube!"
::Views on a Brand New Dummy Account::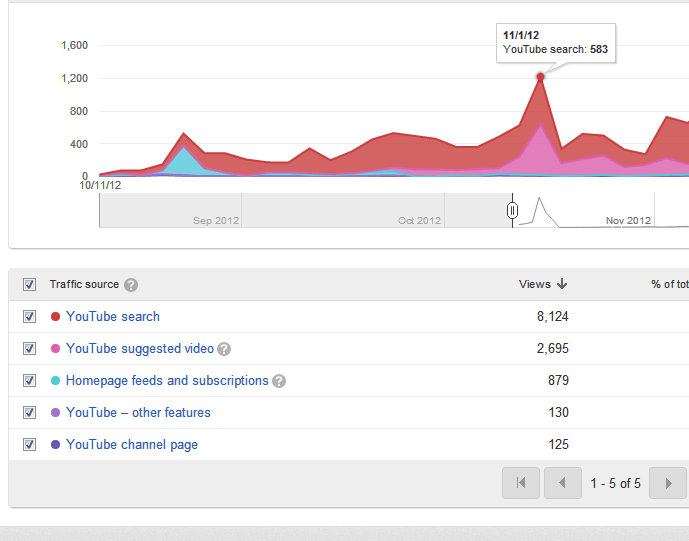 A while ago I used to think that Google was the golden grail of website traffic. I used to dwell on that website and get all the traffic for all my sites from just that one source. Now I see that was a mistake. The best way to make money on the internet is to diversify your traffic sources. Why?? For many reasons!
First of all, if Google kicked you out of the charts, for instance, would your business survive? Mine would, in fact it survived just fine when a few of my sites fell off the charts! This is because I also use YouTube, Facebook, my email list (to gather all forms of traffic, thus never losing it), and Twitter lists.

I know that we've already unloaded a TON of revealing information about what you're about to find in this course, but there's always more to give… So just in case I haven't convinced you to act now before the course comes off the market, let's go ahead and continue onward so that you are 100% sure before you make a decision.



Google Was the Next Code I Cracked, and I've Included Algorithm Updates in Here from Penguin/Panda!
Want to Have $8,176.11 Pouring Into
Your PayPal Account Month After Month?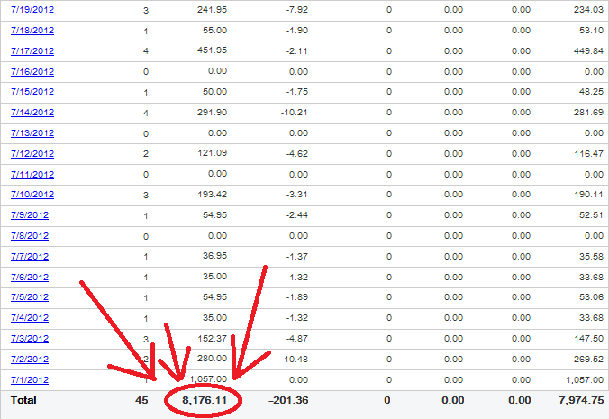 Making money on the internet is not just about mastering one traffic source like I said before, it's all about mastering several traffic sources at once. A lot of people ask me what I'm doing to make the majority of my money, but I honestly don't know how to answer that question.
I have developed many, many skills as I have been promoting and marketing my beats and my products for a very long time. It's because of this that I make money, because of my diversity. I sell an assortment of products, affiliate products, different mailing lists, etc… I do this because I simply want to not rely on any one form of traffic, so that way I am sure that my business will survive and thrive no matter what happens.
YouTube, Twitter, Soundclick and Google are all some of my favorite traffic generation techniques. That's exactly why I went ahead and gave away the exact algorithm for not one, but ALL FOUR of these traffic sources!
"Adsense is Explained, with Tricks & Techniques to Bring Your Adsense Earnings Up Through the Roof!"

Google Adsense is one of the most popular ways for you to earn extra income from your own website, and driving massive traffic to your Adsense ads truly is a way that a lot of my friends are making full time income from.
Let me show you some of the best tricks & techniques for bringing in massive Adsense earnings by combining it with your YouTube account and your website. This is truly revolutionary way to make cash, and I am personally just now starting to cash in on the true power of this uncontrollable source of income.
"We Generate Over 1,000 NEW TARGETED FOLLOWERS on Twitter Every Single Day !
::TOP SECRET::"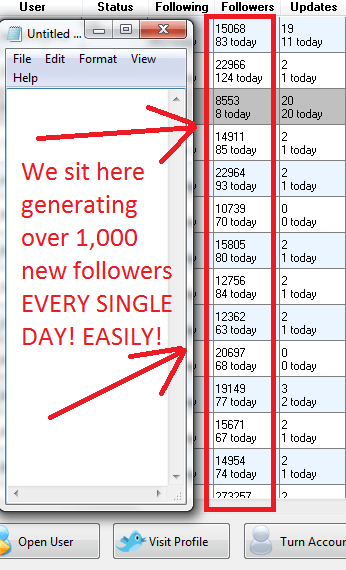 Yes, as a lot of you already know, we've cracked the Twitter algorithm a long time ago and are getting tons of traffic to our websites and literally sales every day just from this one, single traffic source. I spent over a year doing all the SEO work to get my website up in the charts on Google, but once I had cracked Twitter's algorithm, I was getting traffic from it on the same scale as Google within just a couple days. Pretty crazy!
So why wouldn't you let yourself in on a course that allows you to take over Soundclick, Twitter, Google and ESPECIALLY YouTube!! YouTube is the key portion of this course that should really get you interested and intrigued. Honestly I don't know if you will find a more powerful YouTube domination method anywhere else on the internet.
#1 in Pop Charts All Day Brings More Traffic to Our Soundclick!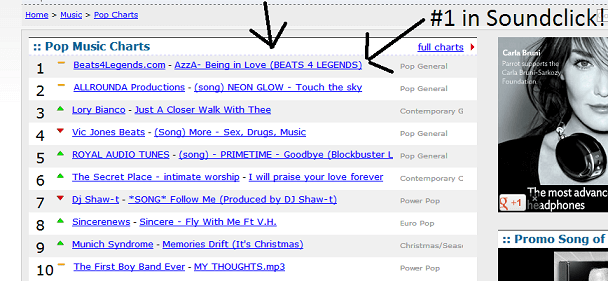 We're #15 and #16 in the Hip Hop Charts and RISING, but We Do Not Pay for Traffic from Any Source or use Any Ads!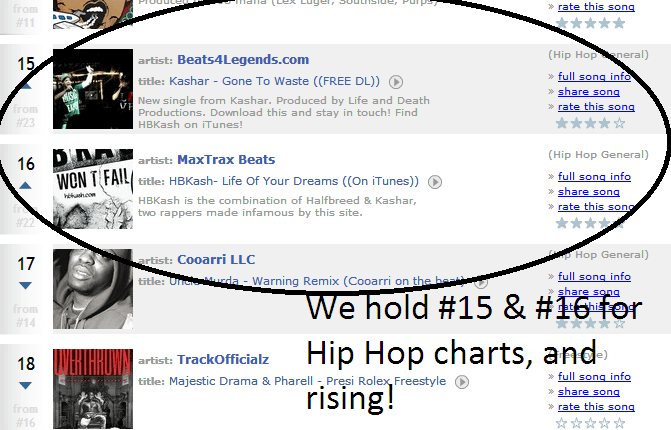 I Cracked Soundclick & Am Giving Away the Exact Algorithm! Good Luck Finding this Anywhere Else!!
The Panda & Penguin Update Have Made it Impossible to Rank in Google, Unless you Know the Secrets WE Reveal in The Reverse Engineer

Google came out with a crazy algorithm update recently widespread known as the Penguin update. It was a lot more ferocious than the Panda update, which was only the beginning. Now there are updates coming out all the time, and they are taking out more and more SEO companies along the way!
Lots of people are going out of business with SEO, but if you think SEO is dead then you are widely mistaken! SEO is still alive, and simply requires the right kind of information and the right strategy if you expect to rank.
However ONE THING happened in the Penguin update that can actually make it IMPOSSIBLE for beats sites to rank in the Google charts. That's because of one very important factor that specifically effects beat sellers… So you definitely don't want to miss out on this course, even if just for that!
Top Reasons to Buy This Course Below:
1. Take over Soundclick by understanding the exact algorithms within it, and stop guessing on what works and what doesn't. We've done all the research, and we know exactly what makes Soundclick tick.
2. Have you ever started a brand new YouTube account and had it start getting thousands of views every day from WITHIN YouTube, from the YouTube charts and "suggested video" section? I'm talking about on a BRAND NEW ACCOUNT, within a week or two? Well if that sounds like something you'd like to know, this course is for you.
3. Discover the #1 reason why beat sellers specifically are falling off in the Google charts post-Penguin update, and more and more people are completely giving up… Arm yourself with this knowledge and you will not have to fear the search engines anymore!
4. Twitter is one of the most powerful websites around for channeling massive amounts of traffic and cash to your website… But you need to know the algorithm or you won't have much of a chance!
5. We teach you how to reverse engineer ANY WEBSITE, so you can find out the algorithm for literally any website or charts, meaning even the website's NOT mentioned here you can EASILY take over!!
6. Learn Adsense tricks & techniques to bring up your monthly monies just by using this simple strategy that brings a much higher click through rate and higher earnings!
7. Much, much more…
The Reverse Engineer
Limited Edition Video Course
Buy this course and Crack ANY Algorithm!
Current Price:
$127.95
$77.95
$39.90!
When this comes off the market?
It's not coming back to this site, ever…
P.S. Don't cheat yourself out of buying this eCourse. Seriously… It is too good for this market.
P.P.S. Don't miss out on this opportunity, if you want to learn how to sell beats then this is your best bet.
P.P.P.S. As an artist, you CAN live off your beats but there's no way that you're going to be able to do so without arming yourself with the right information.